Bear Oil Blog
The latest news on the fuel and oil supply industry.
Fleet Fuel Management - Making It Work For You
Operating a business with fleet vehicles comes with its many challenges. Understanding your business fueling goals and choosing the right management system will optimize your fuel consumption and simplify your accounting procedures.
What if you could fuel your fleet, monitor your fuel inventory and access your billing, all with one system? Here, we will detail the benefits of using our fleet fuel management system and how you can improve your daily operations.
In today's booming fleet industry, trucking, construction and various other companies with large or small fleets, are all trying to reduce costs and increase profitability. Improving fuel efficiency with a customized fuel management system may be the answer to saving money, being more productive while adding security and convenience. With fleet fuel management, you can measure and track fuel inventories, as well as, see where and how fuel is being dispensed. Card-based fuel management or on-site fuel management will help you ensure optimal utilization and fuel consumption.
Keeping fleet vehicles maintained and fueled up is no easy task. "According to the American Trucking Association, purchasing diesel fuel is the second highest expense for fleets, coming in at $90 billion for the trucking industry in 2016 and adding up to as much as 20% of total operating costs." Do you want to leave your fuel management to chance? No, should be your answer and Bear Oil Company has your solution.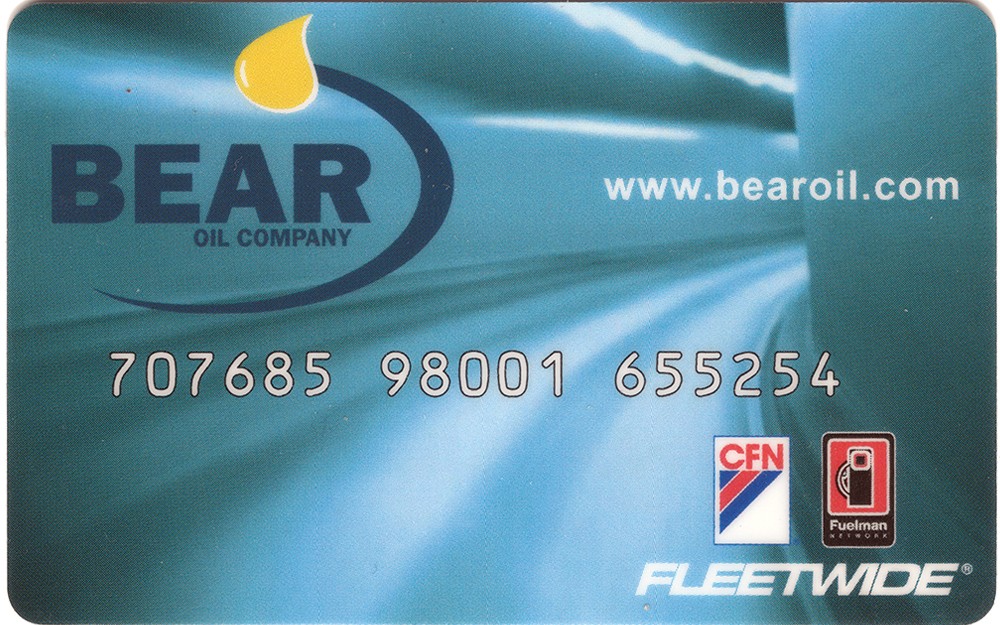 Fuel Management Made Easy with Bear Oil Company and Our National Network
With 24/7, 365 days a year service, and a network of over 57,000 stations nationwide, online access to invoices and fleet fuel cards, fleet management systems such as FleetWide have never been easier. Some featured benefits are:
Customized Convenience:
Control number of transactions per day
Limit fuel quantities by gallon
Control time of day and week for fueling 
Assign driver identification numbers
Fuel Up Anywhere with Confidence and Convenience
Setting the limits and having access to all fleet card users will give you peace of mind and remove that added worry. With so many affiliate locations across the United States, fueling your fleets has never been easier. 
With the latest technology, all of our fleet customers will receive customized attention and support to ensure all of their business needs are being met. This tailored fueling program allows you to have personalized profiles for your individual drivers or entire fleets. The gallon usage limits, cardlock controls and daily transaction allowances also help you control unnecessary spending. Lastly, fuel management has never been easier with detailed reporting, tracking and verification of fuel purchases. Trust this customized local service and a dependable nationwide network to provide you with the optimum fuel management tools. Here is a list of other benefits:
Update your personal fueling profile
Track your vital card and account information
View your transactions and authorizations
Invalidate cards
Fuel usage reporting
Electronic receipts and exception reporting 
At Bear Oil Company, we are dedicated to helping you customize the best fueling management system that will suit your business needs. Whether you need products to keep you moving, onsite fueling or tanks and equipment, we are your "partners on the road." With our local fueling locations and over 57,000 affiliate locations nationwide, fleet fueling is made easy. Trust Bear Oil Company, we keep you fueled up!
Stay Informed
When you subscribe to the blog, we will send you an e-mail when there are new updates on the site so you wouldn't miss them.