Bear Oil Blog
The latest news on the fuel and oil supply industry.
Finding a Match Between You and Your Wholesale Fuel Supplier
Are you in the market for a new wholesale fuel supplier? Choosing one poses many questions, but if you follow these suggestions, you and your company will be sure to make the right choice.
In these uncertain times, trucking companies and companies with small fleets have been a life force for many businesses that have depended on delivery of services and products. Without them we wouldn't have had groceries or other needed supplies during this Covid 19 pandemic. Today and everyday, we depend on truckers to be on the roads taking care of these necessary deliveries. From large trucking companies to the small family owned fleets, fuel supply should not be an added worry.
When looking for a wholesale fuel supplier, you need to first determine what your needs are and what expectations you have for your business. Some fuel suppliers might not be able to meet your needs and this can help narrow your search down. In this day and age of social media, you can look at reviews and testimonials about fuel suppliers. If this is available, it can be a great resource for choosing the right supplier.
Essential Services Support
Whether it's fuel for essential services such as highway and road construction, other infrastructure construction sites, oil fields, power plants, or trucking companies, you need a vendor that delivers. Literally. So, when it's important to keep emergency generators and lighting running, select a supplier that can meet demanding needs.
Pricing
When trying to find the perfect fit for your business, you must compare pricing with other wholesale fuel suppliers. Keeping track of fluctuating fuel prices and buying at the lowest price possible keeps the costs down for most customers and will encourage repeat business. This should be the goal of all wholesale distributors and is very important to consider when selecting your supplier.
Products
In this very competitive market, product lines are very important factors to consider. Will you need branded or unbranded gasoline and fuel? What additives will you require? This and other components will make up your unique contract and should check all of the boxes for your particular needs.
Services
When making a match between your business and your fuel supplier, you will want to know what services will be provided with your contract. On-site fueling, tank monitoring and online access are just a few of the things you might look for in a wholesale fuel supplier. FleetWide cards are also widely used among trucking companies' small fleets and can be customized to fit your business plans.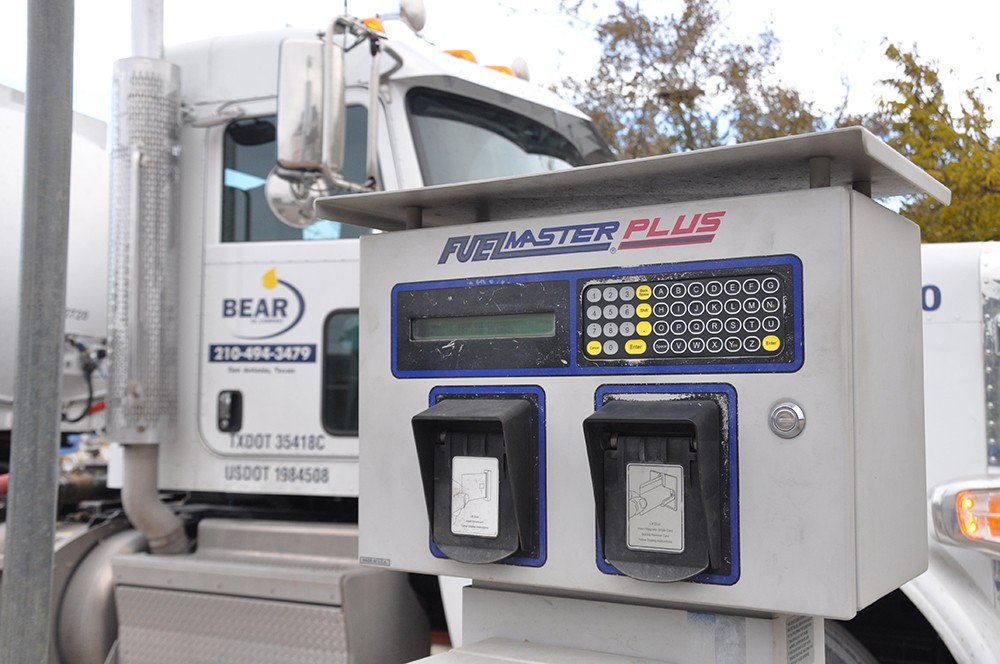 Safety
With Covid 19 changing the way we do business across the globe, your fuel supplier should be equipped to provide you with fuel while allowing you to be safe. Having a convenient location and on-site fueling will surely meet those needs and take the hassle out of fueling your fleet. Tank monitoring is also an added benefit that should be offered by your supplier. It takes the worry out of fueling so that you can focus on your day-to-day business. 
When your vehicles are on the road, their safety is your main priority. FleetWide cards can be essential in maintaining social distancing while fueling your vehicles. Knowing where to safely refuel and doing it as efficiently as possible will add value to your business and give you peace of mind. There are thousands of refueling sites nationwide and with a CFN FleetWide card you can customize your fueling program and track all usage.
Bear Oil Company and YOU
With its over 80 years of experience and local San Antonio ownership, Bear Oil Company is your "partner on the road." There is no question why it's reliable and well-respected history has made it a leader among today's fuel and supply companies. Contact Bear Oil Company today and let their friendly and professional staff show you how to take the hassle out of refueling.
Stay Informed
When you subscribe to the blog, we will send you an e-mail when there are new updates on the site so you wouldn't miss them.